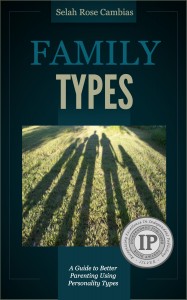 Family Types, A Guide to Better Parenting Using Personality Types is an award-winning book featuring 57 different personality types to help you understand your child better.
Written for the parent that may be struggling to get along with her child because of personality differences, Family Types is full of insightful information that will dramatically shift the family dynamic. Why do our children act the way they do and what can be done when they are challenging and frustrating? Learning what personality types our children were born with, and working to bring out the best in them, is one of the most powerful ways to transform a difficult relationship. While we can't have a remote control on our children and make them behave as we want all the time, we can recognize the reason for their behavior and work within the natural tendencies to bring out the best.
If you ever wondered why your children act the way they do, and what could be done to improve the challenging behaviors, check out Family Types. Available at Amazon and Barnes and Noble.
Barnes and Noble link to Family Types